Are you looking to get promoted and being looked over?

Have you been submitting your resume into the internet "black hole" with no response?

Are you tired of doing the same thing over and over in your job search and expecting a different result?

Are you a stay at home parent/caretaker looking to return to the workforce?

Have you recently graduated and are having trouble gaining experience in your first role?

Are you a veteran wanting to transfer your military skills into a civilian role?

Do you have to lay off a group of people and want to provide outplacement assistance?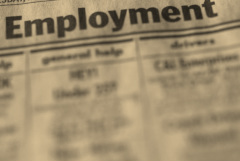 ---
Get Hired and Beyond can help take your resume and interviewing skills to the next level! With over 15 years of expertise in recruiting, hiring, and job development, Jessica Renard is able to assist you in significantly improving the way you present to employers and identify creative solutions to overcome employability obstacles.
Follow Jessica on Facebook at:
www.facebook.com/gethiredandbeyond
---

EARN MORE MONEY! START TODAY!
GET HIRED...GET PROMOTED!
Take your career to the next level!