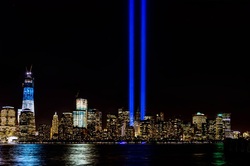 How does someone doing their job turn into a hero? Does something of pure evil have to occur in order to make an everyday job into a heroic situation?

I am convinced that 9/11/2011 started out as a normal day for the NYPD and NYFD employees who kissed their spouses goodbye and went off to work. Nobody could have foreseen what that day would bring! These were not people preparing to be heroes, just people headed to a day on the job! Many did not know they would not return home.

There are heroes everywhere. The teacher who helps an underachieving student work up to grade level. The therapist who reaches out a hand to a troubled teen and prevents a potential suicide. The founder of a no-kill animal shelter who gives a dog or cat a new lease on life. The friend who is there to listen.

Look for the heroes. Thank someone. Be a hero to someone who needs you. The best way to remember is through action. Let those who landed the plane in the field in Arlington and hijacked the vehicle from the hijackers inspire you to do something good for others. In that way, we can spread love and hope, and keep the evil at bay!