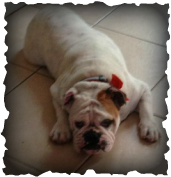 Many of you may be wondering: what's the deal with Sulley, the job search bulldog? Let me explain his back story, as well as why he is so relevant to job searching. His expertise and will resonate with many, and he already seems to be developing quite the fan club, wiggling his way into the hearts of many, as he did with our family.
We had recently lost my beloved pug, Cheechee, who I adopted at 5. He was 13, kicked cancer twice, and passed away of a variety of health complications, coupled with old age. Our house seemed very quiet without the old guy around, even though we have a few other animals. So, we began looking online to see who was available for adoption, and even started looking at breeders.
My heart was set on another pug (of course), and my husband wanted another bulldog to keep our elderly bully company. So, we looked and looked… and out of the blue found an ad for "This Dog" at Animal Control. They could have branded him better, making up any name as many shelters do, and chose not to. The photo was blurry and sad. The brief summary had explained that he was picked up as a stray, and gave no information about his personality or health condition.
Off we endeavor, on an hour journey, to meet this nameless English Bulldog. When we get to Animal Control, we find a sweet, loving bully, in quarantine for multiple health issues. His ears have terrible red wounds, the fur on his back is balding, he has an eye infection, and is on 2 antibiotics! This poor dog was wandering the streets, but was licking my husband and son through the jail cell, while I was on a line to prequalify to adopt him.
The guys fell in love right away, and I didn't want another puppy, so he seemed like a good compromise. I agreed, and we were told that if nobody claimed him in 3 days, he was ours. I was cautiously excited, and ran down there again when I got the call that he was ready to come home. This mangy bulldog nearly bowled me over, never mind hugging my son. He was so happy to have owners again and couldn't stop hugging us.
We bought him a new collar with a bow tie on it and he was very proud, prancing in circles. When we brought him to the lobby, he hugged every single person there! (The lady in white slacks was the only one not pleased to formally meet him.) He jumped in the car, demanded pets, and kissed me the entire hour home! My son was cracking up, and by the time we got home, I was head over heels in love with this fat, farting dog!
Since he has been a member of the family, we found out he knows "sit" and "paw". We feel terrible for the family who clearly lost this beautiful dog. After quite a bit of ointments, eye drops, and other medicines, his fur has grown in beautifully, and he is show dog quality! All for $20 and a lifetime commitment to the little guy. He is eternally grateful, and gives hugs and kisses all day. We affectionately call Sulley our shadow, since he follows us everywhere!
How many times has a manager looked over a resume because it was missing a minute detail, instead of seeing the incredible potential a candidate has, if "groomed" a little? How many candidates have passed on sending a resume because they didn't have one little detail in the job description?
We have a lot to learn from Sulley, the bulldog with the worst presentation at the pound, but with the best attitude out there! Sulley will be sharing tips on Get Hired and Beyond's facebook page regularly at
www.facebook.com/gethiredandbeyond
. He may even help me guest blog from time to time.
The moral of the story: there's a home for every dog and a dog for every home! Don't get down if you haven't found the right next career move for yourself. It's out there! Don't think of yourself as the dog no one wants because then you really won't find a home!!!