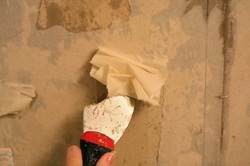 Today, I took on the undertaking of all undertakings! I decided to peel the wallpaper from our half bath. Now, allow me to explain that this is not only the smallest room in my home, but one of the smallest rooms I had ever seen. Until I got started...

Now, everyone knows about the heaping plate of spaghetti which you can eat for hours and not make a dent in? That was my 4 wall inferno! To explain further, I am not someone who enjoys manual labor. I am not reveling in an almost finished product. (I lost all feeling in my dominant hand and needed to stop.) Understand that, at 5'3", I was not doing well at getting the wallpaper saturated close to the ceiling. In fact, where I left off were the uppermost corners. I took a couple of risky moves all around: risking my manicure (I'm girly!), stepping on what I didn't realize was a very wet vanity, and just being on a ladder in general is not typically a safe bet with me being more klutzy than most.

So...where are we going here? Today, I appreciated what painters do (and why they charge so much) more than I ever thought possible! Having pulled out mature plants from my yard, laid 20 or more bags of mulch, and now, scraped (most of) a room of wallpaper, I have an increased respect for those working physically hard to make a living. It's tough! I could have called my painter. But I figured I'd save some money and put in some sweat equity. I also did not realize that, while it's not the toughest job, it's the opposite of fun!

Additionally, when I hear people who tell me they can/will do "anything" for a job, I realize that first, they are coming off as exceptionally desperate, and secondly, while I technically could peel wallpaper, there is no way on this side of hell that I plan on doing that a second time over! Ever! If we ever look at a new house, it will be wallpaper free prior to move-in. I could, but I won't, and that's something that unemployed people must be aware of!

And in case you are wondering, HGTV is very misleading. It takes more than 30 minutes to renovate the walls in a microscopic bathroom!