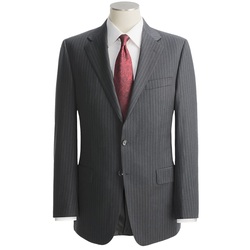 Your Top 5 Reasons to Wear a Suit to an Interview Are:

1. If you don't, your competition will! Do you want to be known as a second choice because you didn't make a good first impression?

2. No matter what level of position for which you are interviewing, a well pressed, well fitting suit always looks professsional.

3. You want to be considered for the highest job for which you are capable! Most C-level executives don't go into business meetings casually. (I know there are a few companies that tout a very casual atmosphere. Do your research.)

4. Even in a casual environment, a suit draws attention to you, not your clothing.

5. Wearing a suit ensures you are not showing too much skin. (Make sure a skirt suit hits just above the knee or lower.)

Even in the heat in South Florida in August, it's best to err on the side of more professional! As Barney Stinson on "How I Met Your Mother" says: Suit up!!!